Play Phone
As all of us parents know, there's almost nothing babies love more than to play with our phones and pretend to call people. Now, they can have fun "calling" their favorite characters and become familiar with numbers all at the same time without actually dialing. And imagine this - You can even record your own voice (telling you child how much you love him) and upload a photo for your child to playback so your child will have a blast! From the popular TV channel, BabyFirst, comes this play phone app that features a big, bright keypad perfect for little fingers. With each push of the button, a colorful video and delightful sound comes from the phone. Choose between the number mode where the keypad buttons are all numbers, or the character mode where each button is a lovable character from BabyFirst. And of course, your own voice and picture, too. Features: - Explores hand-eye coordination - Introduces numbers - Offers a safe way for babies to pretend to call their favorite "cartoon friends" - Includes an option to record your own message and upload a photo - Tested by babies and toddlers - Two different modes: Number and BabyFirst characters

Puzzle Time
An important part of the early learning stage is understanding the concept of parts that make up a whole. In BabyFirst's "Puzzle Time" application, children have the ability to drag and drop puzzle pieces into the correct location and make it whole. Choose between a variety of puzzles including animal scenes in the jungle, arctic and on the farm. Or pick a puzzle that contains letters, numbers or shapes. Have fun exploring with your baby or toddler! Features: - Explores hand-eye coordination - Introduces shapes, numbers, letters and animals - Offer easy drag and drop functionality - Tested by babies and toddlers - Music can be turned on or off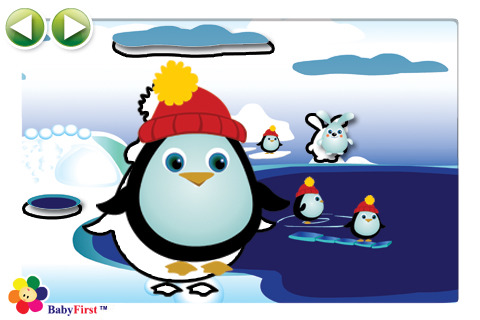 BabyFirstTV's Peek-a-boo, I See You!
The game of peek-a-boo has entertained babies and toddlers alike for years and years! In "Peek-a-boo, I See You!" our friendly character P-Boo swings, rolls, bounces, summersaults and tiptoes into the hearts of the little ones. The interactive game features various objects the P-Boo hides among. Babies and toddlers must touch an object to see if that's where he is hiding!
Petey The Paintbrush
Introduce colors to your baby or toddler with BabyFirst's "Petey the Paintbrush" application. Based on the hit show from the popular children's TV channel, Petey is a quirky, free-spirited young paintbrush that loves color. Familiar, everyday objects appear on-screen. Petey has to decide which color to paint the object, and offers three options. Children simply touch the screen to pick a color and Petey tells them whether that is the correct color of the object. Features: - Introduces primary colors - Introduces common objects - Explores hand-eye coordination - Offers positive reinforcement - Tested by babies and toddlers - Music can be turned on or off

Number Time
BabyFirst's Number Time application introduces numbers 1 – 9 and the magic of counting. This interactive game is based on the hit show from the popular children's TV channel, BabyFirst. As your toddler watches the screen, familiar objects appear. Count along with your child and touch the correct number that correlates to the objects.

Safari Scrapbook
Young children are fascinated by animals – the way they look, the sounds they make and their environment. BabyFirst's Safari Scrapbook application introduces animals in their natural surroundings to your child. As a real-life photograph of an animal appears, your baby or toddler can touch the screen to hear what noise each animal makes. To see more animals, simply swipe the screen to "turn the page." Based on the hit show from the popular children's TV channel, Safari Scrapbook offers an appreciation for nature and all the animals among us.